Mirroring an iPad on your laptop
Have you ever wanted to see your iPhone or iPad on a larger screen? Play games, watch movies, demo apps or present to your computer from your iPhone or iPad. Reflector mirrors iOS devices on big screens wirelessly using iOS built-in AirPlay mirroring.
Reflector
Reflector is a nice application for Windows and Mac that mirrors on the screen of your computer everything you do on the iPad or iPhone device. And it does it wirelessly!
You can even connect multiple devices to one computer for side-by-side app comparisons, multiple presenters, competition, screen monitoring and more.
The "secret" is in the AirPlay functionality. AirPlay mirroring is built-in the most recent iOS devices. Here is a list of supported devices. No extras needed: no cables, no apps to install on the iPad, no configuration, just a little application for Windows or Mac that runs in background and sit modestly in the tray area (the portion of the task bar on the bottom left corner next to the clock).
Just a few settings are available in the Reflect app if you want to fine tune the experience. You can optimise the screen resolution to a specific height and width, or assign a name to your computer to make it visible to the iOS device (the default computer name is otherwise used). Set a password on connection and decide whether you want the window of the mirrored device to launch full screen or be always on top of other windows.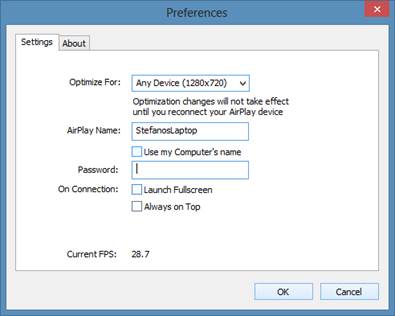 Reflector's Settings
Minimum requirements for your computer to be able to run the Reflector app are Windows XP, or OS X 10.6.8 or later. Disappointingly, there is no support for Windows RT yet, so no chances to see your iPad running inside a Surface RT tablet (how cool would that be! J). There shouldn't be any problem with the Surface Pro, though, although I haven't tried it.
If you are familiar with Apple TV, Reflector works in a very similar way, wirelessly receiving and displaying any devices that connect and mirror to it, so there is really nothing to setup.
Reflector mirrors iOS devices on big screens wirelessly
Enabling AirPlay mirroring
It is very simple to enable AirPlay mirroring on an iPhone or iPad. To enable AirPlay mirroring on your iOS device:
1. Run the Reflector application on your laptop;
2. Connect your iOS device and your laptop to the same Wi-Fi network;
3. Swipe up from the bottom of the mobile device's screen to access Control Center;
4. Tap AirPlay. You should now see your laptop available in the list of devices to which the iPad can connect to;
5. Tap the name of the laptop you wish to AirPlay to, then tap Mirroring. Once enabled, your iOS device's screen will be mirrored on your laptop.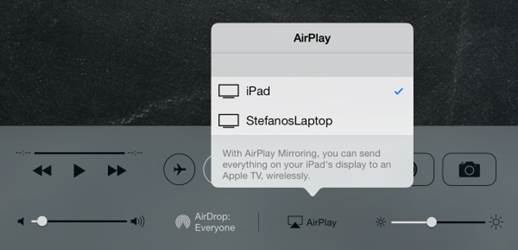 Enabling AirPlay mirroring on iOS
The connection should be straightforward, but if you experience some problems with AirPlay, learn more about using AirPlay and troubleshooting issues with AirPlay Mirroring directly from Apple Support.
If your device is not using iOS 7
Upgrade to iOS 7, I'd say, what are you waiting for? J
But if you really prefer to stick to a previous version of iOS, no worries, AirPlay is still available:
1. As usual, run the Reflector application on your laptop;
2. Connect your iOS device and your laptop to the same Wi-Fi network;
3. On your iOS device, double-click the Home button to display your recently used apps;
4. Swipe the recently used apps twice from left to right until you see the AirPlay icon. If you don't see the AirPlay icon on your iOS device, your iOS device and laptop may not be on the same network. Get help troubleshooting, if necessary, with this article on Apple Support;
5. Tap the AirPlay icon to display a list of available AirPlay devices.
6. To use AirPlay Mirroring, select the name of your laptop and turn Mirroring On.

The AirPlay Icon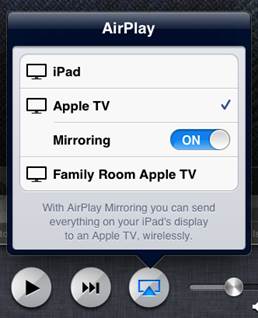 AirPlay mirroring on iOS 6
Once the mirroring is enabled, you should be able to see your iOS device on your computer's screen. Whatever you do on your iPhone or iPad it will be mirrored instantaneously on the computer's screen. If your computer is connected to a projector, the iPad's screen will be projected too, obviously, making this simple application a very good companion for your presentations and demos.